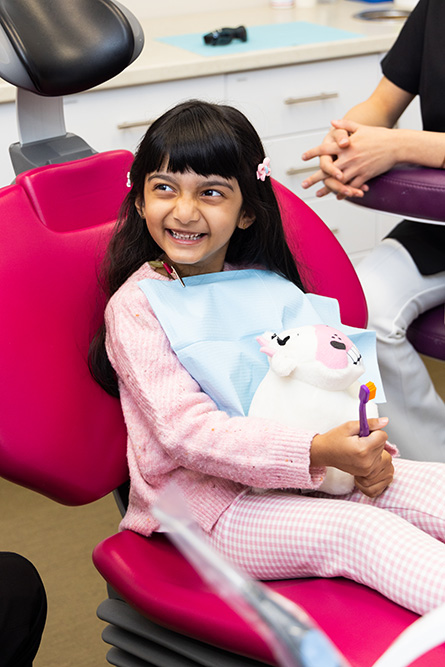 What Age Should A Child First Go To The Dentist?
June 27, 2022
At Dazzling Smiles Dental, we have experience treating patients of all ages, and we spend a lot of time teaching the kids of Craigieburn and wider community about good oral health. We understand that your child's first dental visit can sometimes be a scary experience. On the first visit, our dentist for children in Craigieburn will aim to make your child feel as safe and comfortable as possible. This is vital as their first dental visit can often form their opinion and attitude towards dental care for years to come.

It is highly recommended that children go to the dentist by the time they are one year old, or when they first develop a tooth, whichever happens first. It is crucial to teach your children about dental health at an early age, as this will stay with them for life. To ensure and instil good oral hygiene habits, avoid future dental issues and be able to feel comfortable and familiar in the dentist chair, making them more comfortable for future dental appointments.

Your Child's First Dental Visit

During your child's first dental visit, our dentist for children aims to provide you with guidance about managing your child's oral health, dental hygiene and developing diet.

Through this appointment, the dental team also has the opportunity to build a positive rapport with your child, before treatment is required. Early routine appointments can help your child become confident in the dentist chair, making comfortable dental visits a regular part of life.

Why Dazzling Smiles Dental in Craigieburn?

Dazzling Smiles Dental in Craigieburn strives to provide affordable, high-quality treatment to patients of all ages. Our highly qualified staff and dentists in Craigieburn are committed to providing you with a pleasant and supportive experience with a dentist in Craigieburn. We consult with you during your dental issues and all treatments, ensuring you achieve the best dental treatment and results while feeling comfortable with what is going on.

We believe that high-quality dental care should be affordable and accessible to all families. Therefore, we provide a range of flexible, no-interest dental payment plans, and accept major health funds including HFC, NIB, and CBHS.

Our children's dentistry in Craigieburn will help you and your child feel more comfortable around the dentist.

Contact us here or phone us on (03) 8339 4253 to contact the self-proclaimed best paediatric dentist in Craigieburn.